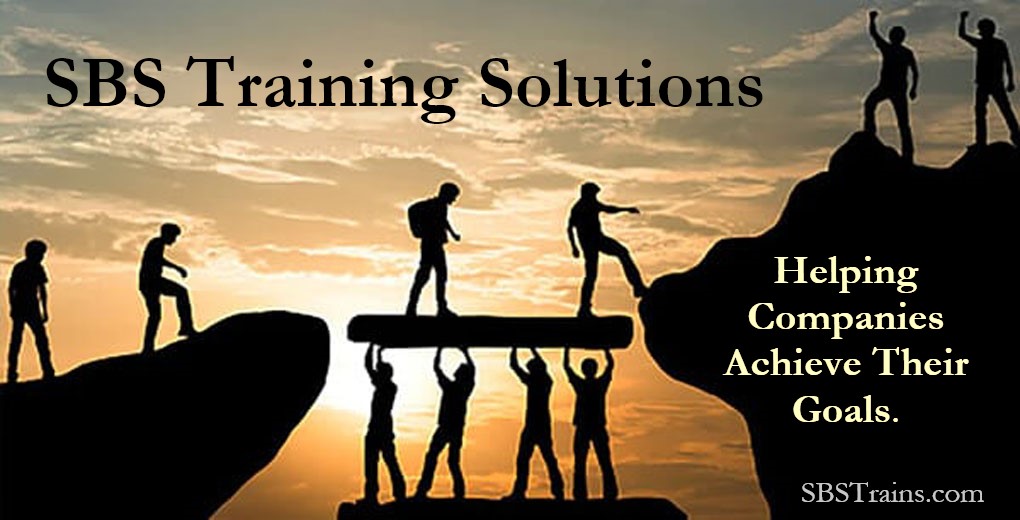 Author: S. Carvajal
Mar. 1, 2020
Recently, my colleague, Michael Haugen, wrote a short piece about picking the right training company or trainer for your organization's needs. In his article, Mike tells everyone to be sure to ask questions about the trainer's qualifications and background to make sure that you will be getting the best bang for your training dollars. This is great information and everyone who is tasked with finding or developing a program of instruction for their company or organization should take this seriously.
Along the same line of thought, I wanted to add to Mike's suggestion by relating an incident that recently occurred to us. Having been in the training business for 10 years, SBS Training Solutions has developed a wealth of knowledge regarding corporate training and those who seek it. One thing that continues to stand out regarding individuals who are come to us asking for training is that often they have only a vague idea of what they are asking for, in terms of a training program.
They don't know what it is that they don't know. – SBS can help to identify those specific needs.
Whether it is from fear of seeming ignorant of their subject, or defensive about their needs, we often have a difficult time dragging enough information out of the person asking for information on the "training program" to adequately respond to their request.
Recently, we began communicating with an individual regarding some training on travel planning. The process could not proceed beyond the initial basics due to a lack of communication on the part of the individual seeking assistance. The individual would not engage in a dialogue to determine what specifics were going to be required in order for any "Travel Planning" for their people to be effective. It was clear that they had not thought the process through regarding the details and vital questions to ask when finding the right trainer or training company. I can only assume that they were looking for a simple answer to what is not a simple question.
There are other trainers and training companies who would and will avoid asking questions of those making inquiries, and are more than willing to provide "snake oil" services to get paid. SBS is not going to engage in practices such as this.
We want to actually understand, in-depth, what is required so that we can prepare and produce the best training programs to meet a client's needs. They are not aware that something as simple on the surface as Travel Planning, might have a myriad of nuances and needs in order to be truly effective for the client.
For example: When SBS looks at the "travel planning" needs of an organization such as this one, we see this as a number of different options for training. There is the very generic "travel planning", which consist of helping potential world travelers understand the most basic items one should examine prior to leaving your home, all the way to very specific "travel planning" for very specific operations or soirees into foreign soil. We include the first of these in a couple of our different training programs, providing a lecture regarding the basics which we consider elemental before going on a trip.
Some of this would seem very basic in nature, such as checking the weather at your destination before you travel somewhere. We have had times when individuals flew from abroad to attend a training program in Chicago, Ill, at the end of November and arrived without even a light jacket. (did not check the weather…)
SBS believes that understanding the prospective client's need actually are, helping them understand how to achieve the goals they may inadvertently have set, even without knowing what those goals should be. Asking questions from us, and answering questions is the only way that a training company can determine if they can actually provide the training needed, and more importantly, if the client will be spending their training dollars effectively.